Anysigns
Signs to promote size acceptance
I have felt for a while that making size-acceptance signs would be a great way to combat weight-loss signs. Here are a few of my ideas. Please let me know what you think of them, and send your own ideas. Once these are made and posted, I'll put some pictures up.
Okay, I made signs, put them up next to the competition, and took pictures. Here they are: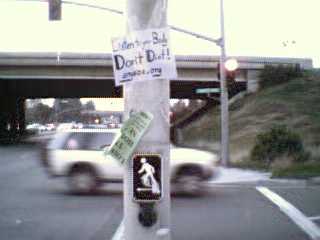 The competition was almost fallen down from worn out duct tape, but it offered 15lbs of weight loss for $38 over the holidays, with a money back guarantee.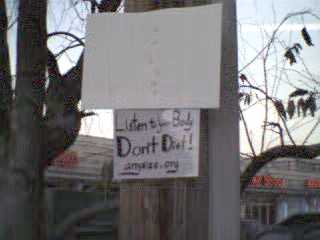 Even standing next to it, I could barely tell this used to be a weight loss sign. Hopefully the new, size-positive sign will last longer.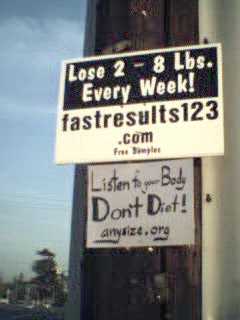 This is a new one on me. I've only ever seen two of them so far. I'll have to check out their web site, maybe leave a guest book entry if possible. :)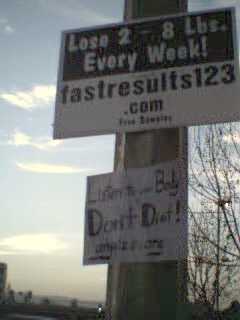 This is the other one. The new focus on weekly weight loss scares me.
Some ideas for signs follow. The last one I've actually used because I got good feedback from friends, and it's nice and positive, but I may use the others too. What do you think?
I lost 30 pounds
On a stupid diet.
I want them back!
anysize.org
I'm fat, fit, and feel great!
anysize.org
Listen to your body.
Don't Diet!
anysize.org
Okay, I made 40 copies of the above sign. I'm staying with friends in Garden Grove, Southern California, and I put up a sign near their house, just below a weight loss sign in Spanish. Now I wish I'd brought my digital camera. I'll have to post some near home and get pictures.